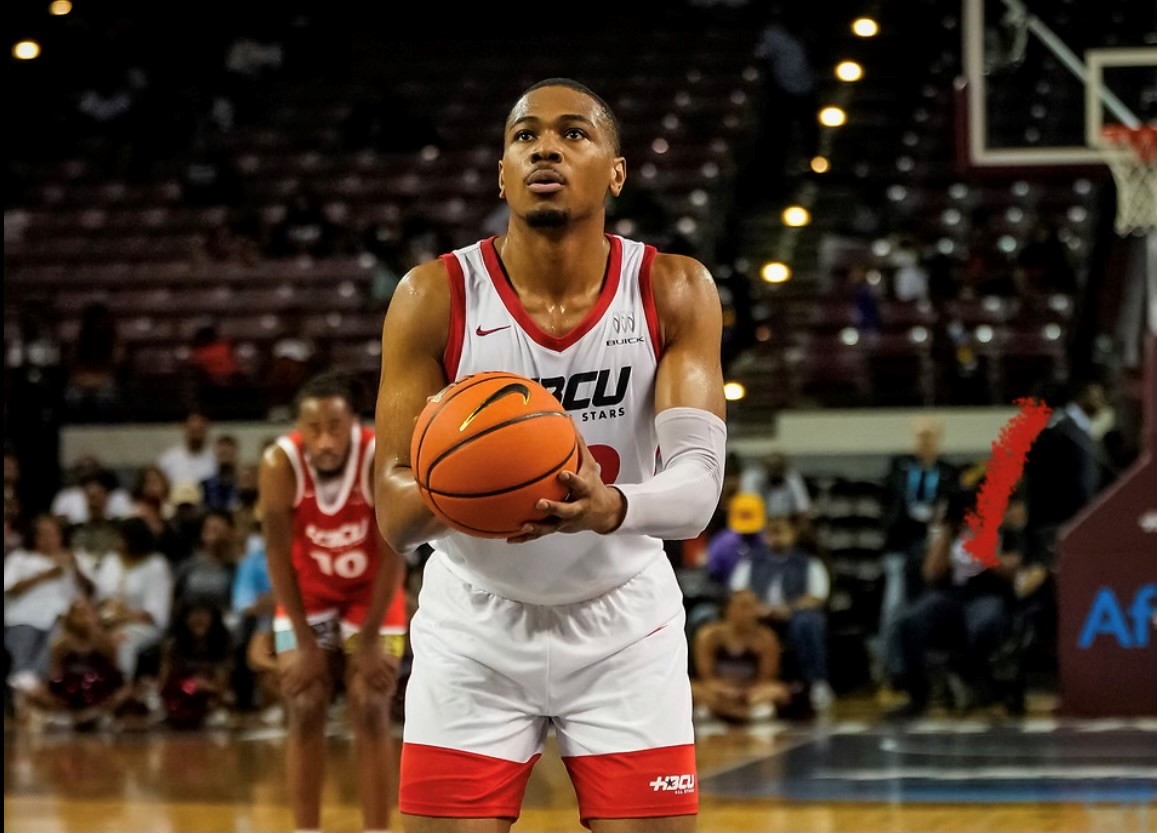 UMES' Nathaniel Pollard Takes Home HBCU All-Star Game MVP  as Team Dr. Dick Barnett Defeats Team Willis Reed 113-99
By Nathan A. Monteith
April 2, 2023
Houston, Texas — There was a final score but both teams were winners as the second annual HBCU All-Star game held Sunday, April 2 on the campus of Texas Southern University was a success.

Behind Maryland Eastern Shore forward Nathaniel Pollard's double-double of 10 points and a game-high 14 rebounds, Team Dr. Dick Barnett was able to hold on to its lead to defeat Team Willis Reed 113 – 99. Despite Texas Southern forward, Joirdon Karl Nicholas' 26 point, 10 rebound, and 3 assist performance, Team Willis Reed was not able to complete the 30-point comeback.

Poor shooting from behind the arc was the major downfall for Team Reed as they only made seven of their 28 attempted three pointers compared to Team Barnett's nearly 50% clip as a team  shooting 17-of-35 from deep.

Team Barnett started out hot behind Grambling State's Cameron Christon's monster dunk to open the scoring and an exceptional ally-oop to Joirdon Karl Nicholas which led to an early 4-0 lead. This would be the last time Team Barnett would have a lead for the rest of the game.

Team Barnett was able to heat up from the three-point line while hitting nine in the first half, and dominating in transition as they outscored Team Reed 10-0 on the break. They held a 15-point advantage going into the half behind North Carolina A&T State guard Demetric Horton's 10 points and four rebounds and North Carolina Central center Brendan Medley-Bacon's nine points.

Morehouse forward Kerry Richardson came out the gates blazing in the second half for Team Barnett, scoring eight points in the first minute and half on his way to a team high 14 points for the game. By the 10-minute mark in the second half, Team Barnett pulled out to a 30-point lead.

The last 10-minutes of the contest belonged to Team Reed as they were able to cut down that 30-point deficit to as low as 10 by the final minute of action. This was largely in part due to the exceptional play of Texas Southern's dynamic duo of Joirdon Karl Nicholas and John Walker III.  Nicholas finished with 26 points, 10 rebounds, and three assists and Walker III added 17 points on 7-9 shooting. Team Reed was also propelled with 13 points from both Grambling State's Cameron
Christon and Arkansas-Pine Bluff's Shaun Doss Jr.

Team Barnett saw 11 of its 12 players score three or more baskets in the game. Kerry Richardson's 14 points and 7 rebounds, Demetric Horton's 12 points and 5 rebounds, Norfolk State's Joe Bryant Jr.'s 11 points and 4 assists, and HBCU All-Star Game MVP Nathaniel Pollard's 10 points and 14 rebounds led the way for the squad.

Pollard described his performance as "something that came natural" and credited it to him staying in the gym during his spring break.
HBCU All-Star's CEO Travis Williams was ecstatic about the event's turnout in its second year of operation as it saw support from Rev. Jesse Jackson, Houston Mayor Sylvester Turner, and Memphis coach Penny Hardaway. When asked about how he plans to top this next year, he replied: "Stay tuned!" The outreach that this program has created has allowed it to grow in unbelievable ways and allows the culture to keep on elevating and continue to put HBCUs on the map.

With a record turnout, next year plans to be even bigger and better. Check out the HBCU All-Star Game next year in Phoenix.
###
ABOUT HBCU ALL-STARS, LLC
HBCU All-Stars, LLC is headquartered in Atlanta, Georgia and was founded in 2019 with the mission to advocate, educate, expose, mentor and invest in hardworking, talented, ambitious, and very deserving students, student-athletes and brilliant coaches at our distinguished Historically Black Colleges and Universities. Along with its mission in April 2022 the company also launched the first-ever HBCU All-Star Game and ancillary experiences and events surrounding the historical endeavor in New Orleans.